REGULATOR TAKES AIM AT TRADEMARK SQUATTING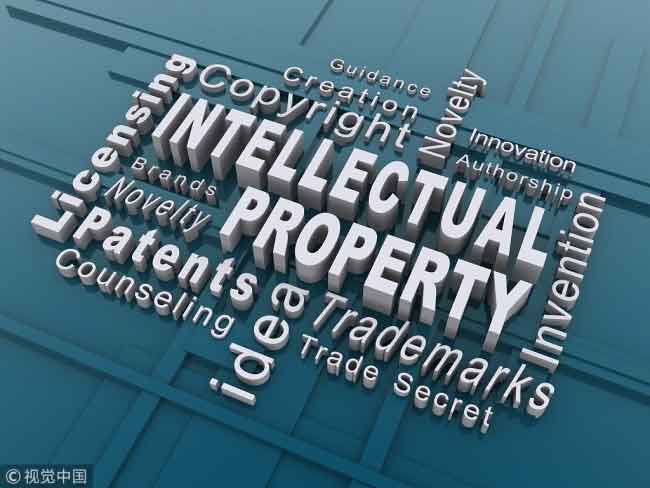 The image from 视觉中国
China will maintain high pressure on malicious trademark registrations this year to strengthen intellectual property protection and serve high-quality development, officials from the country's top IP regulator said.
"We'll keep up the fight against malicious trademark registrations, especially those involving national and public interests, with greater and sustained efforts to combat trademark squatting," Li Chang, deputy head of the China National Intellectual Property Administration's Trademark Office, told a news conference last week.
Malicious trademark registrations are applications that violate the principles of legitimacy and good faith, such as trademark squatting, appropriation and imitation, infringements of others' prior rights, misuse of public resources and massive or repeated registration in bad faith.
Pledging to increase reviews on historical materials of geographical indications, Li added that geographical indication applications suspected of fraud must be rejected.
While planning to curb improper behaviors in trademark registrations, Lyu Zhihua, an official from the administration's department of treaty and law, said that the administration will continue helping to amend the Trademark Law this year, "so as to give stronger trademark protection by rule of law and respond to public concerns in this regard".
The current Trademark Law came into force in 1983, and is the country's first law focusing on the IP field. It has played a big role in protecting the rights of trademark owners and promoting market vitality over past decades, "but it's difficult to solve new problems in the new era, including inadequate use of trademarks and abuse of trademark rights, so it's urgent to be improved", she said.
She revealed that the administration has been helping review the law since last year, adding that a draft amendment to the law has been formed and is receiving public opinion.
"In the draft, we've further specified situations of malicious trademark registrations and highlighted the principle of prohibiting the abuse of trademark rights," she said. "We've also added content on cracking down on those fabricating or concealing important facts and providing false materials while registering trademarks to improve the building of a credit system in this field."
In addition, the draft will intensify the protection of legal prior rights and well-known trademarks, with resolute action against trademark infringements and unfair competition activities, such as copying famous brands, she added.
The time it takes to review trademark registrations and applications for invention patents will be continuously shortened this year, according to Heng Fuguang, a spokesman for the administration.
He added that more online IP services will be provided to ensure innovators and applicants can have easier access to dealing with their IP-related affairs at the administration.
Source:
http://www.chinadaily.com.cn/a/202303/01/WS63fea80fa31057c47ebb16ca.html
(English)