PATENTS SIGNAL: PATENT AUTHORITIES IN CHINA CHAMPION GRANTS AWARDED TO PHARMA COMPANIES
Each week, Clinical Trials Arena journalists analyse data on patent filings and grants that illustrate innovation trends in our sector. These patent signals show where the leading companies are focusing their research and development investment, and why. We uncover key innovation areas in the sector and the themes that drive them.

This new, thematic patents coverage is powered by our underlying Disruptor data which tracks all major deals, patents, company filings, hiring patterns and social media buzz across our sectors.

This week, we examine trends for highly active authorities in charge of patent filings in the pharmaceutical space for Q2 and July 2023 using information from GlobalData patent analytics database.

Top on the list is authorities in China, handing out almost five times the number of grants by those in the US at 19,117 grants between April and July 2023. For authorities in the US, 4,839 grants were awarded while the European Patent Office (EPO) doled out 2,636. One to note is World Intellectual Property Organisation (WIPO) that provided no grant.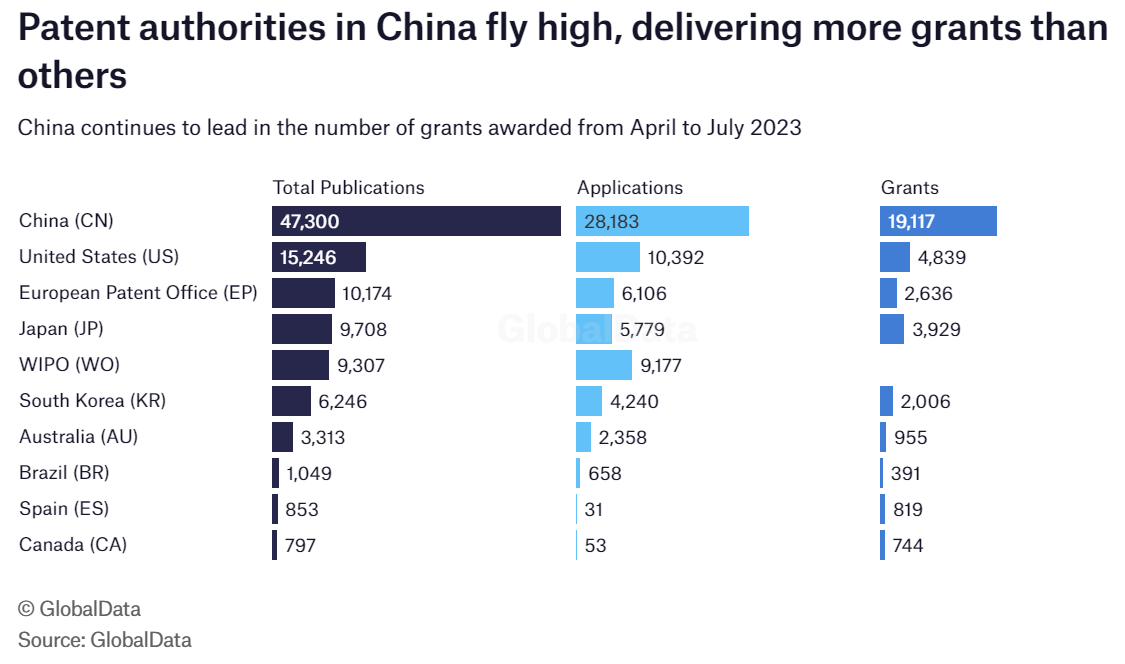 This is no surprise as China is experiencing a rapid increase in Western sponsors investing in clinical trials and local companies driving commercial trial activity in the country. In June, Shanghai-based Cholesgen announced a three-year partnership with AstraZeneca to advance its research and development (R&D) in hypercholesterolaemia and related metabolic diseases.

The EPO's failure to top the number of grants awarded might be attributed to the decline in clinical trials conducted in Europe.

Although 9,177 applications and 9,307 total publications were recorded for WIPO, no grant was provided. The exact reason for this is unknown, but it might be that no company met the mark.

Source:
http://www.iprdaily.com/article/index/17825.html (English)