BRAND STRATEGY CHINA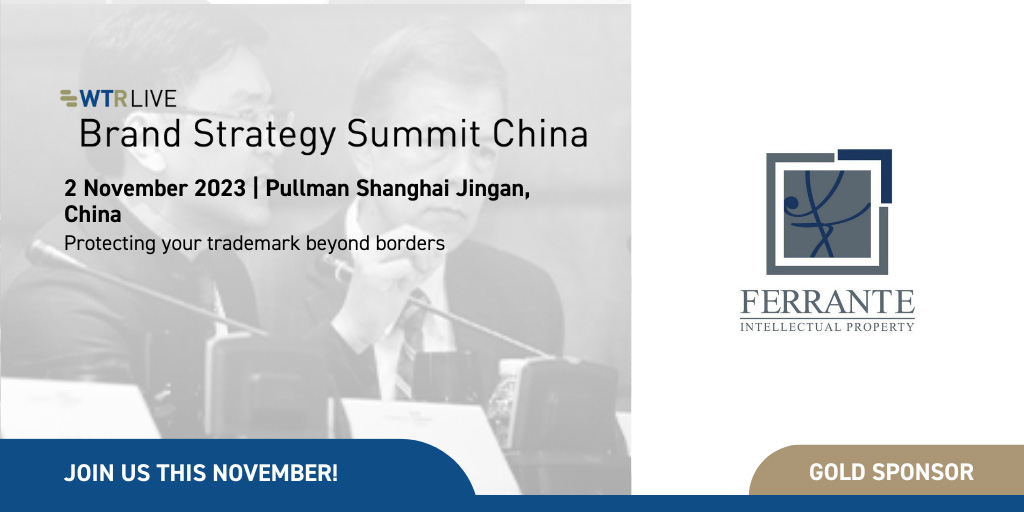 Ferrante IP is pleased to announce that we have been invited to participate at the WTR Connect: Brand Strategy China 2023 event in Shanghai on 2 November 2023, where Felice Meli, Partner and Head of Anti-Counterfeiting at our Shanghai Office, will be moderating a panel discussion on the topic of Cross-Border Infringement.

The panel session will focus on the challenges of counterfeiting which are increasingly being faced by businesses as they expand their brands internationally and will be exploring how brands can meet these challenges, whether from small time copycats or large scale counterfeiting activities. It will consider the best approach for brands to take in the assessment of their existing intellectual property protection, as well as assessing when it is appropriate for different intellectual property rights to be utilised. It will discuss the best ways to build a cross-border infringement monitoring programme and how to provide the optimal allocation of personnel and resources for the most effective anti-counterfeiting operations.

The panel will include as speakers, Jennifer Shi from DiYum China, Helen Ji from Hasbro and Becky Wang, from APAC, SC Johnson, who will all share their experiences gained from their prominent positions in IP, in large multinational groups, in what promises to be a lively and informative debate and one which highlights not only the challenges that arise from owning a successful company, but more importantly, solutions to those challenges and how these may be tailored to the requirements of each individual business.