YONGKANG POLICE SEIZED A MAJOR CASE OF MANUFACTURING AND SELLING COUNTERFEIT ELECTRONIC CIGARETTES, INVOLVING A VALUE OF UP TO 40 MILLION YUAN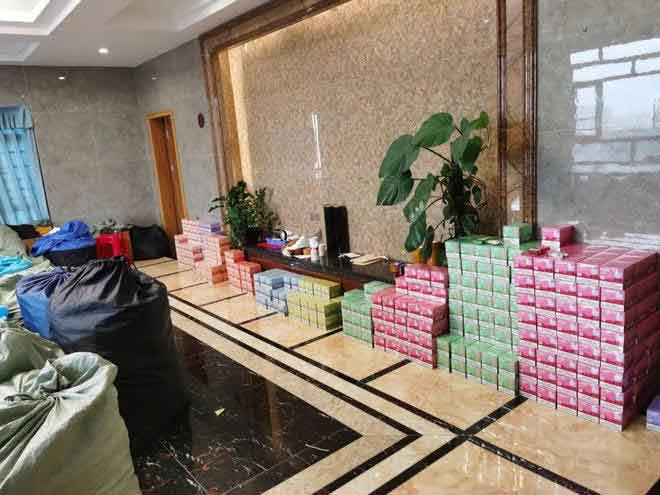 With the development of the e-cigarette industry, there are many e-cigarette knockoffs that copy the appearance and logo of other brands.
Recently, Yongkang police successfully destroyed 8 production dens, storage dens and sales dens, arrested 6 suspects suspected of counterfeiting registered trademarks, seized 9 machines and equipment, seized a total of more than 40,000 pieces of counterfeit e-cigarettes, more than 40,000 packaging boxes, involving more than 40 million yuan in value, frozen funds of more than 2 million yuan.
On August 29, 2022, following a clue from the superior public security organ, a shop in the second zone of Yiwu International Trade City was selling e-cigarettes under the brand "ELF BAR", which were identified by the trademark owner as counterfeit registered trademarks, with a value of at least 190,000 yuan. Yongkang City public security Bureau security brigade received clues, the same day on file to carry out investigation, the establishment of a task force to carry out clues verification and preliminary investigation work, to track the investigation of counterfeit goods source channels and production and sales dens.
On September 30, 2022, Yongkang police arrested four suspects in Yiwu and Dongguan. According to the investigation, since March 2022, the suspects, Mr.Jin and his wife have ordered ELF BAR e-cigarettes for 14 ~ 15 yuan each from the suppliers, Mr.Yang and his wife in Dongguan, Guangdong Province, for seeking illegal benefits. These e-cigarettes were processed, branded (printed trademark) and packaged privately by Mr. Jin after purchasing raw materials in Humen Town, Dongguan City, without authorization of the brand owner. As of September 29, 2022, the suspects, Mr.Jin and his wife, had sold more than 60,000 fake ELF BAR e-cigarettes and made illegal profits of more than 100,000 yuan.
At the same time, police found another e-cigarette brand with a suspected fake registered trademark in Mr.Jin's warehouse. Yongkang police continued to dig deep and investigate thoroughly, focusing on the source of packaging materials of e-cigarettes to carry out research and analysis. On February 16, 2023, in Shenzhen, Guangdong Province, Mr.Liu and Mr.Huang, who were suspected of producing and selling counterfeit e-cigarettes, carried out a unified arrest operation.
At present, the suspects Mr.Liu and Mr.Huang were detained by Yongkang police on suspicion of counterfeiting registered trademarks, and the case is still being further handled.
Source:
https://www.163.com/dy/article/I0BSQ7I2054109WD.html
(Chinese)